UTAS UTS-15 shotgun, left side view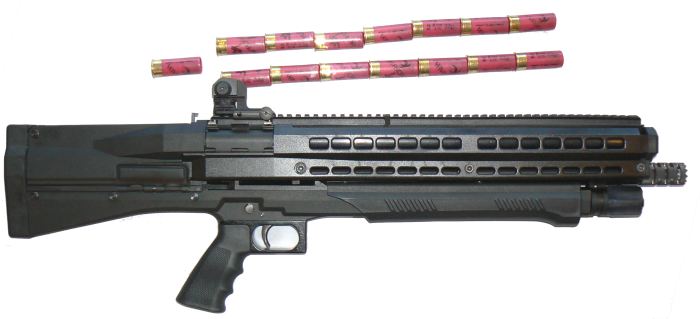 UTAS UTS-15 shotgun, right side, with full ammunition load of 15 shells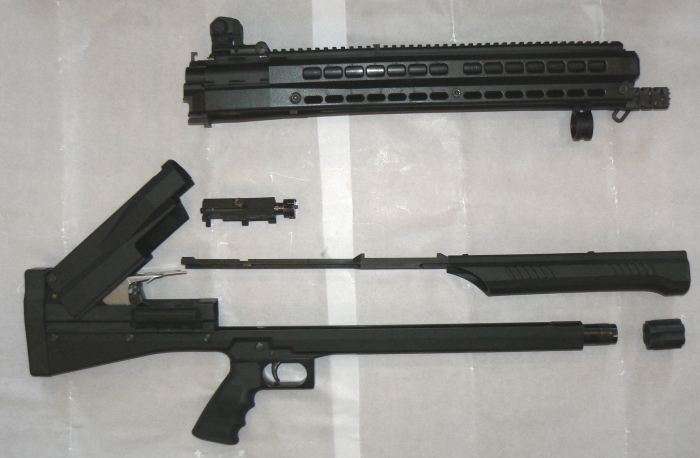 UTAS UTS-15 shotgun partially disassembled into major components
view onto the breech area of the UTS-15 shotgun, with bolt retracted. Action cover is raised to show dual magazines, action arm which directs catridges from magazines to the feed path, and the fresh cartridge ready to be chambered.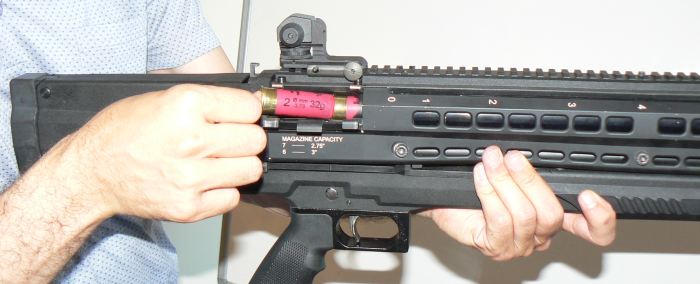 Loading the right magazine of the UTS-15 shotgun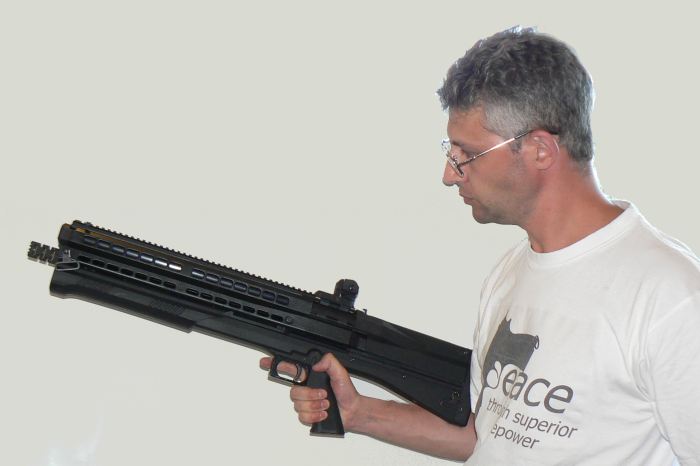 UTS-15 shotgun is well-balanced, quite compact and offers excellent handling even in most confined spaces
| | |
| --- | --- |
| Caliber | 12 Gauge, 3" / 76mm chamber |
| Type | Manually operated, pump action |
| Overall length | 720 mm |
| Barrel length | 470 mm |
| Weight, empty | 2,8 kg |
| Magazine capacity | 7 + 7 (70mm shells) or 6 + 6 (76mm Magnum shells) |
The story of the UTS-15 shotgun began in around 2006, when famous American company Smith & Wesson decided to expand its line of shotguns with some new and preferably unorthodox tactical weapon. At that time Smith & Wesson did not manufactured shotguns in house; instead they used OEM process, stamping their name on shotguns made for them in Turkey by a well established manufacturer UTAS Makina, which also made quality shotguns for other famous US brands like Savage-Stevens and Kimber. After some considerations it was decided to start with highly unorthodox design of the South African Neostead shotgun and try to improve it. Following this decision, UTAS obtained patent rights and samples of the Neostead shotgun from its designers. After initial evaluation it was decided to redesign weapon completely, retaining its basic bullpup configuration and dual over-the-barrel magazines but create everything else from the ground up. All development work was carried out at the UTAS facility in Turkey, under the leadership of the noted American small arms expert Ted Hatfield. In around 2008 Smith &Wesson withdrew from this project due to its internal problems, and UTAS continued development of its new weapon under its own name. This shotgun, designated as UTS-15 (which stands for Urban Tactical Shotgun 15-rounds), was first displayed to the public at IDEX 2011, and at the moment of this writing (summer of 2011) it is entering production at two factories belonging to UTAS – one in Turkey (to supply guns to Europe, Asia and Africa) and another in USA (to supply to American markets). It must be noted that UTAS company has plans to expand its product line and to introduce semi-automatic version of their shotgun, followed by some more weapons like rifles and grenade launchers, all based on the same patented platform.
The UTS-15 is a manually operated shotgun of the so-called "pump action" type, in which action is operated by sliding the forend back and forth. Gun is of bullpup layout, with pistol grip and trigger located forward of the barrel breech. Ejection port is located on the right side of the gun and has a hinged dust cover which opens up automatically when action is cycled for the first time. Its barrel has chrome-lined bore and is provided with internal removable chokes. Ar-15 / M16 style manual safety is conveniently located on the left side of the pistol grip. Right side of the grip is reserved for controls for the optional built-in laser / light unit. Receiver of the UTS-15 shotgun is from carbon-fiber reinforced polymer. Barrel locking is achieved by conventional rotary bolt with three lugs that lock directly into the barrel extension. UTS-15 shotgun has two tubular magazines, located side by side above the barrel. Each magazine contains up to 7 rounds and has its own loading port on the side of the gun, so each magazine can be loaded or topped up independently. Loading ports are provided with hinged covers. What is more important is that UTS-15 has three feed options, selectable through the switch, conveniently located at the top of the gun, above the barrel breech. these options include feeding rounds from either left or right magazine only (with switch rotated to respective side), or feeding alternately from each magazine. that way user can either have two magazines loaded with two different types of loads (I.e. slugs and buckshot, or less-lethal and breaching etc) with rapid selection of necessary load "on the fly" or have both magazines loaded with any type of loads for double capacity (up to 14 rounds plus one in the chamber). Another unusual but useful feature of the UTS-15 shotgun is that magazine followers have levers that protrude up through slots cut in the magazine tubes. These levers have two functions: first, they allow to compress magazine spring manually by pushing the lever forward until it can be locked in the L-shaped part of the slot, allowing for fast and effortless loading of magazines; second, position of levers clearly indicates number of rounds remaining in each magazine. To help quick assertion of remaining ammo, gun is provided with appropriate markings near each slot. To ensure fast and convenient access to the action (i.e. to check if the chamber is loaded or to clear occasional jam in case of deformed round) gun is provided with large top-opening cover, which also serves as a comb of the stock. UTS-15 shotgun is fitted with rubber buttplate and several sling attachment points. An integral Picatinny rail is running at the top of the gun, allowing for easy installation of various open or Red Dot sights. Since the gun has magazines on top of the barrel, there is plenty of space inside the sliding forend guide below the barrel. This space can be used to install tactical flashlight, laser aiming unit or a proprietary laser/light combo without recourse to additional rails and external mountings which otherwise would increase bulk of the gun.
Personal notes:
Thanks to management at the UTAS company, I was able to examine pre-production prototype of the UTS-15 shotgun while on vacation in Turkey. I am mostly accustomed to conventional pump-action shotguns, but for me UTS-15 handled pretty well. It is quite compact to be effectively used in confined spaces like narrow passages or from inside cars, yet its barrel length and large capacity offers significant firepower. It has good balance and can be easily held against the shoulder in ready position with single firing hand, while non-firing hand can be used to top up magazines, open doors, use comm or any other equipment etc. Position of loading ports is good for fast reloading, even on the move, and visibility of magazine followers and selector helps to maintain constant awareness of your weapon state. Gun can be easily field stripped into major components without any tools for cleaning and maintenance. Despite necessarily long trigger linkage, trigger pull is pretty good and easily comparable with that of a conventional shotgun. So far I had no chance to actually shoot the UTS-15, but I'm certainly looking forward to it.