KS-23 riot shotgun / carbine, left side, with 'less-lethal' rubber slug ammunition.


KS-23 weapon, right side close up with bolt partially retracted to show its rotary locking head.

KS-23M weapon with removed steel butt.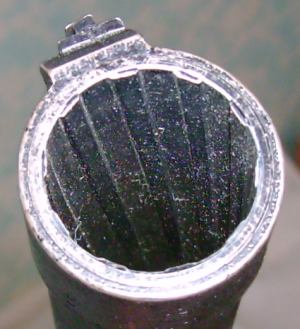 KS-23 rifled bore of 23mm caliber.
Type: pump-action
Gauge: 4 / 23 mm (rifled barrel)
Length: 904 mm / 35,6″
Barrel length: n/a
Weight: 3,8kg / 8,4 lbs
Capacity: 3 rounds in underbarrel tube magazine
The story of KS-23 riot gun began in 1970s, when Soviet Ministry of Internal Affairs (MVD) began the search for an effective anti-riot weapon, to be used during disturbances in prisons. After much research, it was decided to use shotgun-type ammunition of about 4th gauge, which will launch tear-gas grenades to ranges of up to 100-150 meters with significant accuracy. To achieve desired accuracy, it was further decided to use weapon with rifled barrel, and the solution was eventually found in using rejected 23mm aircraft cannon barrels, turned down to slimmer profile to save weight. Basic weapon was designed by TSNII TochMash (central Scientific Research Institute for Precision Machine Machine building, a key Soviet /Russian developer of special-purpose small arms) and produced in small batches at TOZ – Tula Arms factory. Designated as KS-23, it was adopted by Soviet Militia (Police) and other MVD troops by mid-1980s, along with a wide range of specialized ammunition. At the present time KS-23 is used by Russian law enforcement forces as anti-riot weapon. It also saw some use in certain ex-Soviet republics which are now independent states.
During 1990s attempts were made to produce more compact and maneuverable weapon in the same caliber, for operations in cramped areas (inside buildings). Of two prototypes, KS-23M (with detachable butt stock) and KS-23K (with bullpup layout and box magazine) only the former saw some use.
It is interesting to note that all KS-23 ammunition is of "shotgun" type, with paper shells with metal bases, although, because of rifled barrel, it is type-classified as a"carbine" in Russia. KS-23 stands for "Karabin Spetsialnyj, 23mm" – Special Carbine). Later on, to achieve bigger effect with tear-gas grenades, designers produced two types of add-on muzzle mortars of 36mm and 28mm caliber, called "Nasadka-6" and "Nasadka-12″respectively. These mortars are loaded from muzzle with single tear-gas grenade which is launched using special blank cartridge.
The standard range of ammunition for KS-23 includes following rounds:
23 mm blank "grenade launching" cartridge
23 mm "

Barrikada

"(Barricade) car-stopping cartridge with solid steel projectile which can easily destroy engine block at ranges of up to 100 meters
23 mm"

Volna-R

" (Wave-R) less-lethal cartridge with rubber ball bullet. Minimum "safe"range is ~40 meters (at closer ranges it can cause serious body damage or death), maximum effective range is about 70 meters
23 mm"

Cheremukha-7M

" (Bird cherry) tear-gas grenade loaded with CN agent. Maximum effective range is about 100-150 meters, tear gas cloud volume is about 50 cubic meters
23 mm "

Siren-7

" (Lilac) tear-gas grenade loaded with CS agent. Maximum effective range is about 100-150 meters, tear gas cloud volume is about 50 cubic meters
23 mm "

Zvezda

"(Star) flash-bang grenade round
"

Shrapnel-10

" and "

Shrapnel-25

" "lethal" buckshot rounds (max. effective range 10 and 25 meters respectively)
36 mm "

Cheremukha-6

" tear-gas grenade loaded with CN agent; launched using 36mm muzzle mortar and blank cartridge. Grenade weight is ~70g, maximum effective range is 200 meters,  tear gas cloud volume is about 60 cubic meters
82 mm "

Cheremukha-12

" "high efficiency" tear-gas grenade loaded with CN agent, for using on open areas; launched using 82mm muzzle mortar and blank cartridge. Maximum effective range is 120 meters
KS-23 riot gun is manually operated weapon with rifled barrel and underbarrel tubular magazine. Its design is noticeably similar in details to US-made Winchester model 1300 shotgun, but noticeably bigger and heavier. Barrel is locked using rotary bolt with four locking lugs. Bolt carrier is operated by sliding handguard, made of polymer. Trigger is of single action type; manual safety is cross-bolt button located at the front of the trigger guard. Sights are of rifle type, with fixed V-notch rear and drift-adjustable front. Butt stock on KS-23 carbine is made from wood, with rubber butt plate; on KS-23M carbine, there is a separate polymer pistol grip and a detachable metallic butt. Standard accessories include carrying sling and cleaning kit. Optional accessories include removable muzzle-loading mortars of 36mm and 82mm caliber.