HawkPF26W2 hunting shotgun.
Image © Hawk Group

Hawk Type97-1 police shotgun (18.4mm Type 97-1Anti-riot gun) with folding stock.
Image © HawkGroup

Hawk Type 97-1 policeshotgun (18.4mm Type 97-1Anti-riot gun) with fixed stock.
Image © Hawk Group


Hawk combat pump-actionshotgun with box magazine and folding stock, based on Type 97-1 shotgun.
Image© Hawk Group

Hawk combatpump-action shotgun with bullpup layout and box magazine, based on Type97-1 shotgun.
Image © Hawk Group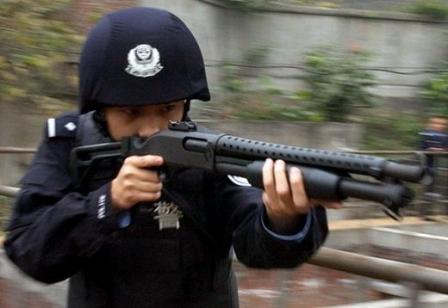 Hawk 18.4mmType 97-1Anti-riot gun (12 gauge police shotgun) in use by PAP officer.
Type 97-1
Hawk pump
Hawk bullpuppump
Type
pump-actionshotgun
Gauge
12; chamber76 mm / 3"
Length
940 mm (fixed stock) / 37"
840 mm / 33"
670 mm / 26.4"
Weight
~ 3.1 kg / 6.8 lbs
3.2 kg / 7 lbs
3.1 kg / 6.8 lbs
Magazine
5 rounds in underbarrel tubularmagazine
5rounds in removable box magazine
5 rounds in removable boxmagazine
Chinesecompany Hawk Industries produces a line of pump-action shotguns forhunting and security / police purposes, which are based on US-made Remington 870 shotguns. Civilianand certain security-type models of Hawk line-up with tubularmagazines are sold outside of mainland China under variety of names,often exported through the NORINCO corporation. It apears that versionsof the same shotgun, but adapted for a proprietary detachable boxmagazines are intended mostly to government export sales, as those weredemonstrated on several international Military and Police / Securityexhibitions. The version of the tube-fed pump action shotgun appears tobe adopted by the Chinese police (PAP) as the '18.4mm Type 97-1Anti-riot gun' (the 18.4mm is the metric designation of 12 gauge).
Hawkpump-action shotguns are available in three basic configurations:standard configuration with fixed tubular magazine below the barrel,standard configuration with detachable box magazine, and bullpup configuration with detachable box magazine. The last modification is notorious for the fact that it has a massive horizontal forward grip, which is used to cycle the pump action but also contains an integral flash-light at the front. Box magazine fed versions employ proprietary single stack magazines made from steel. Police guns of standard layout (including Type 97-1 guns) feature rifle-type sightswith blade front and tangent-type rear blades; bullpup shotgun features fixed sights built into the integral carrying handle.