Saiga 12 shotgun inhunting configuration.


Saiga 12S shotgun withlong barrel and side-folding butt.


Saiga 12K shotgunwith short barrel and side-folding butt.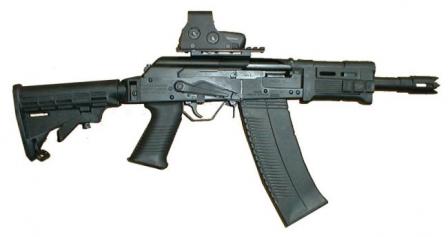 configuration, with after market US-made 10-round magazine.
imagecourtesy: Tromix
This shotgun had been developed by the IZHMASH Russian State Arms company in the early 1990s as a member of the whole family of semi-automatic shotguns and rifles, based on the famous and time-proven Kalashnikov AK assaultrifle design. All weapons in the Saiga family inherited the basic design of the AK,with long piston stroke gas system, rotating bolt with two massive lugs,and box magazine feeding. The shotgun part of this large family includes guns chambered for .410, 20 and 12 gauge magnum ammunition. In each chambering,there's at least three versions, with long barrel and fixed stock, long barrel and side-folding AK-74M type polymer stock and with same folding stock and shorter barrel. The latter versions intended as a security, police and self-defense weapons, and are widely used by numerous Russian law enforcement and private security services. .
As said above, the Saiga 12 is basically similar to the AK assault rifle, but with obvious exceptions.First, it is restricted to the semi-automatic fire only. Second, the receiver and the bolt group were redesigned to accommodate large, rimmed shot shells. Third, magazine capacity was limited to 5 or 8 rounds in the single stack plastic box magazines.Gas system is fitted with gas regulator with "standard" and"magnum" settings, and this shotgun can fire either 3 inch magnum or 23/4 inch standard loads interchangeably. Standard open sights were replaced by the short shotgun rib on the top of the gas tube. Optional side mounts for red dot sights are available. Barrel is equipped with screw-on choke system. The black plastic furniture features a long forearm and ether a fixed butt with semi-pistol grip or an AK-74M-type side-folding solid polymer buttstock combined with pistol grip. Saiga 12K shotguns, made for domestic market, featured a special safety block that locks the trigger when butt is closed, so the gun is compliant to the local gun laws, which prohibit the firearms with barrels shorter than 500 mm (20 ") and with over all length less than 800 mm. As you can see from the specifications above,with the open stock the Saiga 12K is legal in Russia, and with folded stock itis illegal, so the block makes this gun totally legal on the domesti cmarket. Itis offered for export, but with such a short barrel it is illegal in many states. The longer barreled version, Saiga 12S, is similar to 12K in every respect except that it has a barrel 520 mm long (20 2/5"), so it has no block and can be fired with butt folded.
In general,Saiga 12 shotguns are reliable and effective close hunting or close combat weapon, being much cheaper than its famous western counterparts from Beretta, Franchi and other brands.