Fostech Origin-12 shotgun
image: Oleg Volk


Fostech Origin-12 shotgun with folded stock
image: Oleg Volk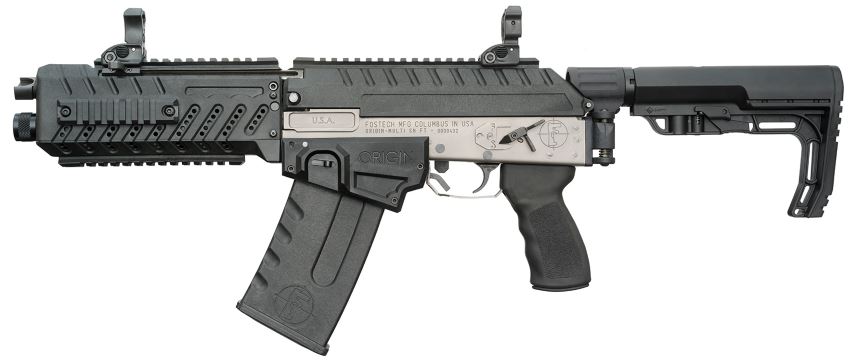 Fostech Origin-12 shotgun, short-barreled version
image: Oleg Volk

Fostech Origin-12 shotgun partially disassembled
image: Oleg Volk
| | |
| --- | --- |
| Caliber | 12 Gauge, chamber 76mm (3") |
| Type | Semi-automatic |
| Overall length | 920 mm |
| Barrel length | 470 mm (other lengths are available) |
| Weight, empty | 4.2 kg |
| Magazine capacity | 5, 8, 10, 20, 30rounds |
Origin-12 shotgun is produced in USA by Fostech Outdoors company. This semi-automatic weapon is primarily intended for civilian use in shooting sports (like IPSC or 3-Gun), home defense and general shooting. It also can be used for hunting.
Fostech Orgin-12 shotgun is broadly based on (or inspired by) Russian Saiga-12 shotgun, but most of the parts in Origin-12 are redesigned or newly designed "from the ground up" and not interchangeable with Saiga.
Fostech Orgin-12 shotgun is a gas-operated, semi-automatic weapon. It has dual gas ports located just ahead of the chamber, and connected with the gas block with two gas tubes running forward above the barrel for about 10 cm (4"). At the gas block, powder gases are "turned back" to push on the traditional long-stroke gas piston, and a manual gas regulator is provided to adjust the gun for a wide variety of loads. Barrel and gas block are designed as a quickly detachable unit, allowing for fast and simple changes of barrel lengths and (possibly) calibers. Gun features Saiga-12 style receiver made of steel, and also Saiga-12 style bolt group with rotary bolt. Feed is from detachable box magazines with capacities ranging from 5 to 10 rounds. Optional drum magazines are available with capacities of 20 or 30 rounds. Fostech Orgin-12 shotguns feature side-folding, adjustable stock and rifle type iron sights, mounted on the top PIcatinny rail.