Stoeger model 2000 Defense shotgun.
Image © Stoeger Industries

Stoeger model 2000 shotguns, standard hunting model with walnut stock.
Image © Stoeger Industries

Stoeger model 2000 shotguns, standard hunting model with polymer stock and camouflaged finish.
Image © Stoeger Industries

author's own Stoeger model 2000Deluxe shotguns, partially disassembled.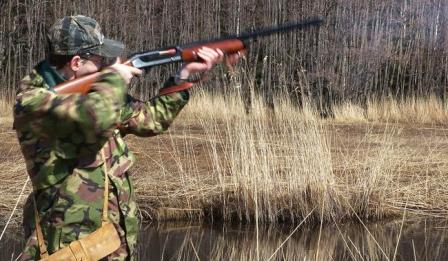 Author hunts the duck with his own Stoeger model 2000 Deluxe shotgun.
Image © Russian "GUN" magazine
Type: semi-automatic, inertia operated shotgun
Gauge: 12; 3" / 76mm chamber
Length: 915 mm / 34.75" to 1300 mm / 51.25"
Barrel length: from 470 mm / 18.5" (Defense model)to 762 mm / 30"
Weight: 3.04 kg / 6.7 lbs to 3.27 kg / 7.2lbs
Capacity: 4 rounds in underbarrel tube magazine
Stoeger shotguns are manufactured in Turkey by Stoeger Silah Sanayi A.S. (former Vursan arms company). Stoeger arms factory, along with old and famous US-based arms importing company Stoeger Industries are now owned by Beretta Group (Italy), and thus all Stoeger brand guns are made to strict European quality standards, while maintaining affordable price well below their more famous rivals of 'true' Italian or American origin.
The Stoeger model 2000 shotgun is built around the famous inertia-operated action, pioneered and patented several decades ago by Benelli Armi company in Italy. Today Benelli is owned by the same Beretta group, so Stoeger has access to Benelli patents and uses inertia-operated system under license. Compared to similarly configured Benelli shotguns (Benelli Rafaello in hunting versions and Benelli M1 Super 90 in Defense versions), Stoeger model 2000 maybe lacks some refinement in small details and finish, as well as a "brand-name appeal", but it is as practical and reliable as its much more expensive Italian-made counterparts. Author of this website can vote for this opinion as I own the Stoeger model 2000 since the year 2004 and barely had any problems with it (there were few failures to fire due to extra-hard primers on certain brand of Russian-made shells). The inertia-operated action makes this gun very simple to disassemble and clean, and provides good reliability with most loads (save for some extra-light loads which may not have enough energy to cycle the gun, as stated in user's manual).
The Stoeger model 2000 shotgun utilizes inertia-operated action with rotary bolt locking, similar to that of Benelli M1 Super 90 shotguns. When locked, bolt locks directly into the barrel extension,thus relieving the light alloy receiver from most of the stress,generated by high pressure in the chamber. Return spring is located below the barrel, around the magazine tube. It is concealed within the forend and is connected to the bolt carrier by two action bars.Standard tubular magazine holds 4 rounds, and is loaded through the aperture at the bottom of the receiver. In hunting configurations, Stoeger model 2000 shotguns are fitted with a variety of barrels with fixed or interchangeable chokes and usually with ventilated rib.Defense model is fitted with short barrel with fixed cylinder choke. As with most other self-loading shotguns, barrel on Stoeger 2000 is easily removable and can be replaced in a minute or two with alternative barrel of different profile or length. Two-piece furniture(shoulder stock and forend) is made either from wood (standard or fine grain walnut) or from polymer (black or camouflaged). Buttstock is usually factory fitted with rubber recoil pad.