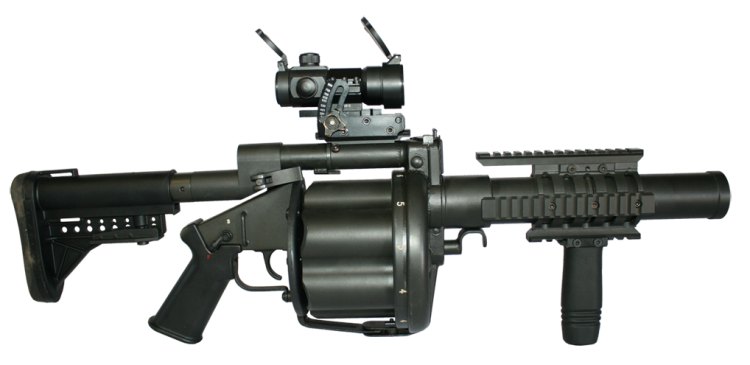 Milkor MGL Mk.1S grenade launcher
Image by Milkor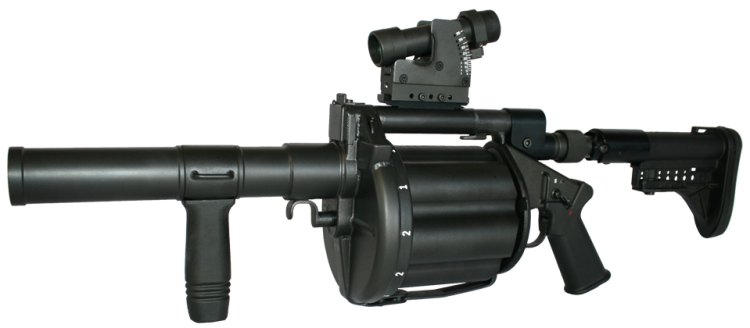 Milkor MGL Mk.1L / MGL-140 grenade launcher
Image by Milkor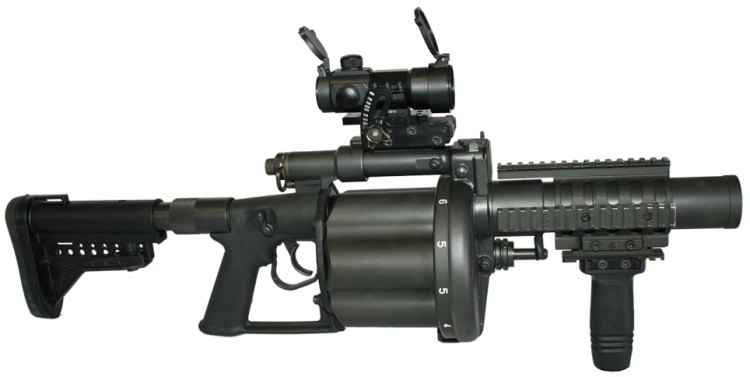 Milkor SuperSix MRGL grenade launcher
Image by Milkor

Milkor MGL-140 in action.
Mk-1S MGL

Mk-1L MGL

SuperSix MRGL

Caliber

40×46 LV

40×46 LV

40×46 LV and MV

Type

Multi-shot revolver

Length

765 / 685 mm

795 / 715 mm

805 / 725 mm

Weight, empty

5.92 kg

6.45 kg

6.5 kg

Capacity

6 rounds

Maximum effective range

400 m

400 m

800 m (MV rounds)
The Milkor 40mm 'Multiple Grenade Launcher' (MGL) or 'Y2' (qualified in 1983 with Armscor) is the world's first mass-produced multi-shot 40mm hand-held weapon. Developed by the South-African company Milkor, it entered production in 1983, and was first used by the South African Defense Forces and is still being used thirty years later. In 1996, an improved version of the basic design entered production, and was designated the Milkor 40mm Multiple Grenade Launcher Mk-1.
Over the last 30 years, Milkor grenade launchers were sold to more than 50 countries worldwide .The Milkor MGL offers significant firepower increase, compared to typical single-shot 40mm weapons, such as US M79. The rapid-fire capability (six shots in less than three seconds) is essential in ambush situations and in quick-pacing urban warfare. In 2006, Milkor Special Products introduced a less-lethal derivative of its widely-used 40mm MGL Mk-1 for use by private security and law enforcement application – the 40mm MAR was designed exclusively for use with less-lethal rounds and is incapable of arming standards-based lethal rounds should they mistakenly be fired from it. The 37/38mm variation of the MAR (Multiple Anti-Riot) is also available.
Milkor's original 40mm Multiple Grenade Launcher (also known as Y2 and MGL) design is still the framework upon which new derivatives like the Mk 1S & Mk 1L are based.
These two launchers differ from the original Mk.1 by having stronger, stainless steel frame (as opposed to the original frame), as well as by having four Picatinny-type accessory rails around the barrel. The difference between Mk.1S and Mk.1L (also known as Mk-140) is the length of the cylinder – while Mk.1S retains the original cylinder 105mm long, the Mk.1L has a longer cylinder 140mm long, which can accommodate a wider variety of 40mm ammunition, some of which has longer warheads. Both types also can fire all standard 40x46mm 'lethal' ammunition, including HE, HE-FRAG, HEDP and others.
The latest weapon in the MGL product line is the Milkor 40mm SuperSix Multiple Range Grenade Launcher (MRGL), a versatile sixth generation 6-shot launcher with different options of cylinder length. The SuperSix is capable of firing a wide range of standard (LV) and medium velocity (MV) munitions, which enables the user to engage a wider range of targets than possible with a standard 40mm launcher.
The US M32 multi-shot grenade launcher, which is in official use by US Marine Corps, is based on the original Milkor MGL-140 design, but with various minor modifications by Milkor USA, which is an entirely different business entity from the original Milkor (Pty) Ltd Manufacturing Company, based in South Africa. Other copies and clones of the original Milkor MGL weapon are manufactured in Bulgaria by Arsenal Inc as Arsenal MSGL, in Croatia by RH Alan as RGB-6, in South Africa by Rippel Effect (formerly Milkor Marketing Inc).
The Milkor Mk.1 MGL is a revolver type, hand-held grenade launcher. The six-shot cylinder is rotated by a spring for each consecutive shot. The spring is wound manually during the reloading. For reloading, the rear part of the frame (along with the pistol grip) is unlocked and then rotated sideways around the top strut of the frame, until the chambers in the cylinder are exposed for reloading. Once the cylinder is reloaded, the rear part of the frame is rotated back and locked into position. The double-action firing mechanism has a manual safety above the pistol grip. All Mk.1 launchers are fitted with the red-dot type sight, with range scale. Modern versions, M.1S and Mk.1L, also can be fitted with other types of sighting equipment, using a Picatinny rail on the top of the barrel. The shoulder stock has a rubber recoil pad.
The Milkor 40mm SuperSix MRGL features strengthened construction and integral recoil buffer, built into the modified shoulder stock. This buffer is necessary to fire new 40mm Medium Velocity (MV) grenade rounds which have muzzle velocities about 100-115 m/s, as opposed to typical 75-78 m/s for standard 40mm LV (40x46mm Low Velocity) rounds. This 25-35% increase in muzzle velocity amounts to similar increase in recoil impulse and 50-100% increase in maximum effective range (compared to LV rounds), because MV rounds usually are loaded with warheads similar to that of LV rounds of same type.
To ensure accurate aiming, Milkor launchers are supplied with red dot sights as standard, using specially designed mounts, adjustable for range. Optional Picatinny rail mounts offer additional sighting and accessory options, including laser sights for CQB applications and/or modern electronic fire control units with built-in range-finding and ballistic calculation capabilities for precision long range shooting. Milkor also offers a wide range of single and twin vehicle mounts.