AGS-30 automatic grenade launcher on standard tripod; the vertical projection installed on tripod at the right side hosts folding carrying handle which allows to haul the weapon over the battlefield in ready to fire position.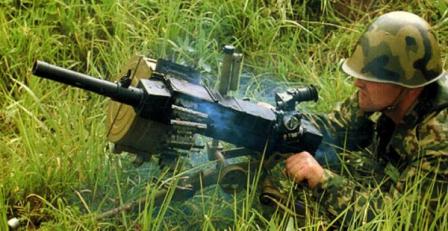 Russian soldier fires the AGS-30 grenade launcher.
Caliber: 30x29B
Type: blowback operated, belt fed automatic grenade launcher
Overall length: 1100 mm
Weight: 16 kg gun complete with tripod
Effective range: up to 800 m point targets; 1700 m maximum range
Rate of fire: 400 rounds per minute
AGS-30 automatic grenade launcher has been developed by the famous KBP (Instrument Design Bureau)as a more lightweight alternative to the already proven and successful AGS-17 weapon of same caliber. Development started in early 1990s, with first produced weapons appearing by 1999. Today AGS-30 is being manufactured by ZID factory in the city of Kovrov (Russia) and is being issued to Russian army and several special purpose Internal Affairs Ministry units. Compared to AGS-17, AGS-30 is almost two times lighter (16 kg with tripod, 30 kg loaded with 29rounds of ammunition in standard belt drum). It can be easily carried trough battlefield by a single man; its proprietary lightweight mounts provides widearc of fire and allows for indirect fire at longer distances. This weapon is used mostly in infantry fire support applications, and also is installed on several Infantry Combat Vehicles of recent Russian manufacture. In vehicle applications, AGS-30 is usually installed in remotely controlled mounts or turrets, and is equipped with electric trigger unit.
AGS-30 is air cooled, belt fed, advanced primer ignition blowback operated grenade machine gun / launcher. AGS-30 fires from open bolt and uses non-disintegrating steel belts with open pockets. Upon the closing movement of the bolt, fresh round is pushed forward into the barrel from its loading position; empty cases are ejected to the bottom. AGS-30 is fed from special belt drums that hold 29 linked rounds, same as used in AGS-17. Loaded belt drum weights about 14kg (31 lbs). Interestingly, spade grips are installed on the gun cradle integral to tripod, instead of the gun body; trigger is located at the right spade grip.AGS-30 can fire in single shots and full automatic modes. Standard sight in equipment is 2.7X magnification PAG-17 optical sight; backup iron sights also provided.