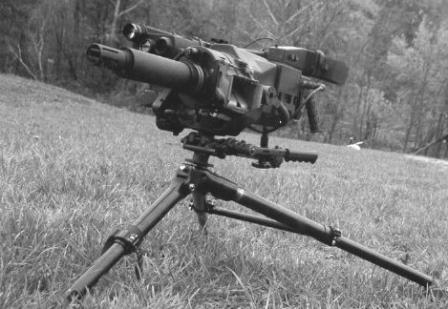 Mk.47 mod.0 Advanced Lightweight Grenade Launcher (ALGL) on standard tripod.

Mk.47 mod.0 automatic grenade launcher, close-up view.
image: GDATP

Mk.47 mod.0 automatic grenade launcher, close-up view from the rear; note screen of electronic sighting / fire control unit.
image: GDATP

Mk.47 mod.0 automatic grenade launcher on field trials.
image: GDATP
Caliber: 40x53mm High Velocity
Type: short recoil operated, belt fed automatic grenade launcher
Overall length: 940 mm
Weight: 18 kg gun body; 41 kg complete with Mk.108 tripod and AN/PWG-1 video sight
Effective range: up to 1700 meters against point targets, up to 2200 m maximum
Rate of fire: 225-300 rounds per minute
The development of the more lightweight and effective weapon which could replace venerable Mk.19 Mod.3 automatic grenade launcher in US and foreign service, has been initiated by Saco Defense Company (now General Dynamics Armament and Technical Products – GDATP) during late 1980s.First prototypes of the new weapon appeared by mid-1990s, and in 1995 US DoD approved the industry team which then consisted of Saco Defense (now GDATP) as a weapon producer and system integrator, and Raytheon as a provider of advanced electronic sighting and fire control equipment. Later on, team was joined by Norwegian NAMMO Oy company, which develops the advanced, air- bursting 40mm ammunition for new weapon. In the year of 2003, US Special Operation Command (USSOCOM) adopted the GDATP Striker 40 40mm automatic grenade launcher as Mark 47 model 0, complete with its new tripod mount and AN/PVG-1 Lightweight Video Sight developed by Raytheon. These weapons now (February 2006) are in limited service with US Special Operation forces in Afghanistan and Iraq, and also are being considered for adoption by US Marine Corps. Mk.47 grenade launchers are compatible with full spectrum on NATO-standard 40mm high velocity ammunition; advanced air-bursting ammunition with programmable fuses is being developed for this weapon. Once this ammunition will be available, the Mk.47 / Striker 40 weapon system will provide serious and more cost-effective alternative to the much-discussed 25mm XM307 ACSW weapons now in development.
Mark 47 Model 0 (mk.47 mod.0) automatic grenade launcher is short recoil operated, locked breech weapon that fires from closed bolt for improved first-shot hit probability. Weapon is air-cooled and belt fed, using standard disintegrating belts, same as Mk.19 Mod.3 launcher. Standard belts are supplied in 32 or 48 round boxes. Weapon is equipped with newly developed Mk.108 mod.0 tripod with T&E mechanisms and brake that allows to lock weapon on pre-selected target spot. The key member of the Striker 40 system is the AN/PVG-1 Lightweight Video Sight (LVS), which offers 3X magnification TV view on target, combined with laser range finder and ballistic computer; sight also has interface connectors that allow to link it to optional thermal night sighting equipment which can be installed on the weapon; once the night sight is connected, operator can select TV or thermal picture via the single button. The LVS allows to accurately measure the range to the target then aim the gun accurately for high first shot hit accuracy. LVS is installed on the right side of the weapon, and is controlled by the buttons and four-position "joystick" located at the rear of the receiver, between and above spade grips.