Ares SCR Sport Configurable Rifle in basic configuration with Monte-Carlo stock

Ares SCR Sport Configurable Rifle with optional railed forend and Sporter stock

Ares SCR lower receiver kit with proprietary bolt carrier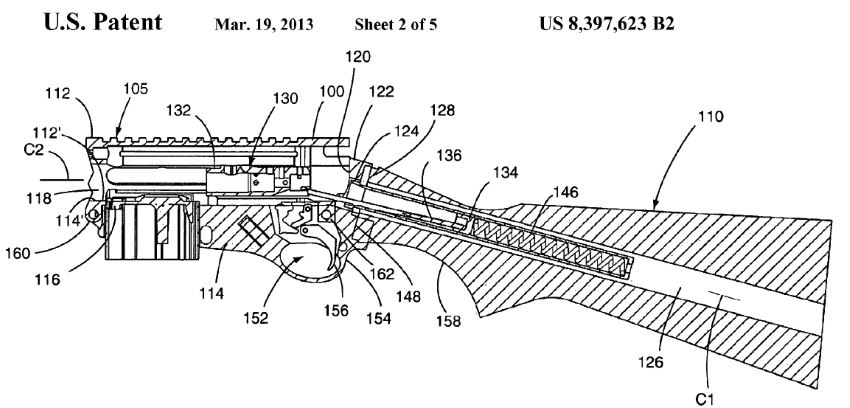 Ares SCR patent diagram
| | |
| --- | --- |
| Calibers | 5.56×45 / .223 Rem and 7.62×39 |
| Length, overall | 940 mm (37") or 990 mm (39") |
| Weight | 2.6 kg (5.7 lbs) |
| Barrel length | 413 mm (16.25") or 457 (18") |
| Magazine capacity, rounds | 5, 10, 20, 30 |
The Ares SCR (Sport Configurable Rifle) is a semi-automatic rifle intended for civilian use – as a hunting, practice or home defense weapon. It is based on the extremely popular AR-15 rifle platform, but is configured to a more traditional look. It also conforms to the (in my opinion stupid) legal limitations, originally imposed by the now-defunct AWB '94 (Assault Weapons Ban, 1994-2004) and now continued on by certain legislations in some of the states within the USA. The Ares SCR rifle was originally developed in around 2003 by Geoffrey Herring, and was initially known as the Herring MSR – Modular Sporting Rifle. After the sunset of the AWB '94 this project was shelved for almost a decade, and finally went into production as Ares MCR in 2014.
Ares SCR rifles are available as complete rifles and carbines, as well as lower conversion kits that can be attached to almost any existing AR-15 type upper receivers. Conversion kits include new lower receivers with stocks and return springs, as well as a new proprietary (and patented) bolt group.
The basic Ares SCR rifle is a gas-operated, semi-automatic weapon. It uses a Stoner-designed direct gas impingement system with rotary bolt locking. It has aluminum alloy upper and lower receivers, connected together by two captive cross pins. The bolt carrier of the SCR is noticeably shorter than the typical AR-15 bolt carrier, and features an articulated "tail", which connects to the return spring, located in the channel inside the shoulder stock. The lower receiver of the SCR rifle is designed to accept  'mil-spec' AR-15 upper receivers and all Ar-15 type magazines. In its basic configuration (with Ares-built upper receiver) there is no bolt hold-open device (which is optional) and no dustcover on the ejection port. The trigger unit is also somewhat different from a standard Ar-15, featuring a cross-bolt manual safety located at the rear of the trigger guard.
Standard furniture includes a polymer shoulder stock with semi-pistol grip (available in several different configurations) and polymer forend. The Ares-made SCR upper receivers feature "flat-top" configuration with no dust cover and no forward assist. However, shooters can use various compatible mil-spec upper receivers of their own choice to build different versions of the SCR.