Mauser G.41(M) rifle, close-up view to the receiver and magazine.

Mauser G.41(M) rifle, close-up view to the annular gas chamber, located around the muzzle.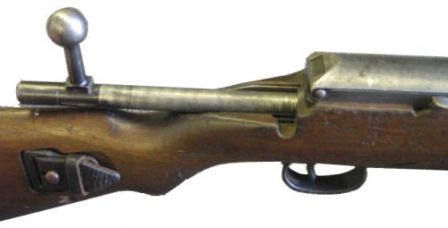 Mauser G.41(M) rifle, bolt handle retracted.
Caliber: 7.92×57 mm
Action: Gas operated, rotating bolt
Overall length: 1172 mm
Barrel length: 550 mm
Weight: 5.02 kg empty
Magazine capacity: 10 rounds
The Mauser Gewehr 41 rifle, also known as G.41(M), was developed in late 1939 – early 1940 to fulfill requirements for new semi-automatic rifle, issued by German Army Weapons department (HWaA). These requirements had some specific points that severely impacted the final performance of the rifles. Among other requirements, HWaA requested that new rifles should not have gas ports in the barrel, should not have any moving parts outside of the weapon (when gun is fired), and the gun shall work as manual repeater in the case of automatic mechanism failure. In spring of 1941 Mauser Werke factory received an official contract for 5 000 G.41(M) rifles for field trials. Early production was plagued with problems and delays, and in late 1942 it was decided that the G.41(M) was inferior to its only competitor, Walther's G.41(W) rifle, and production of G.41(M) was ceased. Overall, no more than 15 000 of Mauser G.41(M) rifles were manufactured between 1941 and 1943. These rifles were generally not popular among German troops due to problematic functioning, muzzle-heavy balance and complicated maintenance procedures.
The Mauser G.41(M) rifle is gas-operated, semi-automatic weapon. It uses annual (circular) gas piston, located inside the gas cylinder which was installed around the muzzle part of the barrel. Upon discharge, powder gases expanded in the muzzle attachment, pushing the gas piston rearwards. This movement was transferred to the bolt carrier via the actuating rod that ran below the barrel, inside the handguards. Barrel locking was achieved by rotating bolt with dual locking lugs. The action was closed by hinged receiver cover, which opens (for maintenance and inspection) up and rearwards. The charging handle is a separate assembly, and it protrudes from the rear of the receiver. The charging handle remains stationary when gun is fired. To retract the bolt manually, shooter has to rotate the charging handle up from horizontal position to vertical, pull it all the way back, then return it forward and rotate back to horizontal position (just like with manually operated Mauser 98 rifle). The manual safety switch is located at the top of the receiver cover. Feed is from non-detachable box magazine with 10-round capacity. Loading and unloading is from the top, using standard 5-round charger clips. To facilitate quick loading, rifle is equipped with bolt hold-open device. Standard stock is made from wood, with stamped steel buttplate. Tangent type rear sight is marked from 100 to 1200 meters in 100-meter increments. A standard bayonet lug is provided below the barrel.