Danish Krag – Jorgensen rifle, M1889


Danish Krag – Jorgensen carbine, M1889/24


Danish Krag – Jorgensen rifle, close up view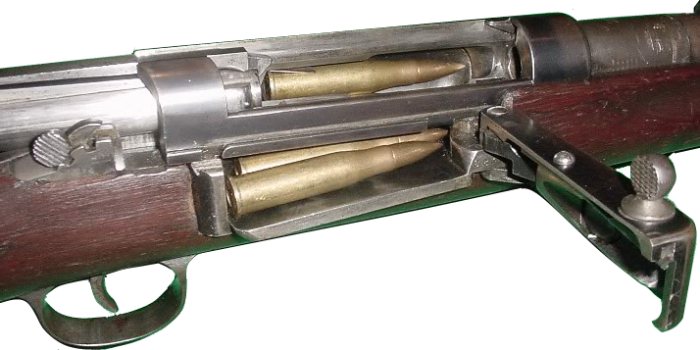 Danish Krag – Jorgensen rifle, close up view with magazine loading gate opened and bolt retracted


Norvegian Krag – Jorgensen rifle, M1894


Norvegian Krag – Jorgensen carbine, M1894/12


Norvegian Krag – Jorgensen rifle, close-up view


US Krag – Jorgensen rifle M1892


US Krag – Jorgensen carbine M1892


US Krag – Jorgensen rifle M1898


Krag – Jorgensen US Krag – Jorgensen carbine M1899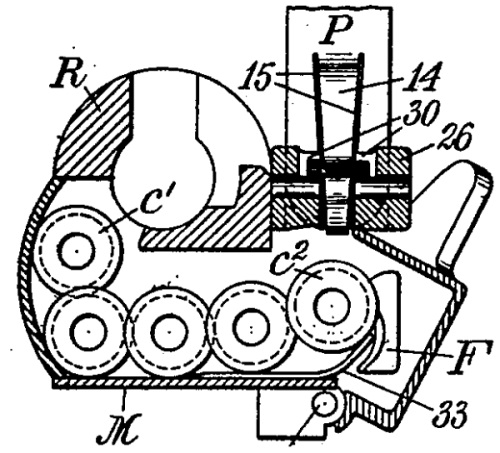 Diagram from US patent issued to parkhurst for his clip-loading adapter for Krag – Jorgensen rifle

Video courtesy of TheFirearmBlog
Krag-Jorgensen rifle (Denmark)
| | | |
| --- | --- | --- |
| | M1889 rifle | M1928 sniper rifle |
| Caliber | 8x58R | 8x58R |
| Overall length | 1328 mm / 52.28" | 1171 mm / 46.1" |
| Barrel length | 833 mm / 32.78" | 587 mm / 23.1" |
| Weight, empty | 4,31 kg / 9.5 lbs | 5,25kg / 11.7 lbs |
| Magazine capacity | 5 rounds | 5 rounds |
Krag-Jorgensen rifle (Norway)
| | | |
| --- | --- | --- |
| | M1894 rifle | M1912 carbine |
| Caliber | 6.5×55 | 6.5×55 |
| Overall length | 1267 mm / 49.9" | 1107 mm / 43.6" |
| Barrel length | 760 mm / 29.9" | 610 mm / 24" |
| Weight, empty | 4,26 kg / 9.38lbs | 4,0 kg / 8.8 lbs |
| Magazine capacity | 5 rounds | 5 rounds |
Krag-Jorgensen rifle (USA)
| | | |
| --- | --- | --- |
| | M1898 rifle | M1899 carbine |
| Caliber | .30-40 Army / 7,62x59R | .30-40 Army / 7,62x59R |
| Overall length | 1248" / 49.14" | 1046 mm / 41.2" |
| Barrel length | 762 mm / 30" | 560 mm / 22" |
| Weight, empty | 4,24 kg / 9.35 lbs | 3,58 kg / 7.87 lbs |
| Magazine capacity | 5 rounds | 5 rounds |
The Krag – Jorgensen rifle was developed during late 1880s by two Norwegians: Ole Krag, director of Kongsberg Våpenfabrikk (Kongsberg weapons factory), and gunsmith Erik Jørgensen.
The first country to adopt these rifles in 1889 was Denmark, which had long historical links with neighboring Norway. Danish Krag-Jorgensen rifles, chambered for 8x58R ammunition, stayed in front-line service with Danish army until German occupation of 1940.
Second country to adopt Krag – Jorgensen rifle was USA. After extensive trials, intended to find the best possible small-bore rifle adapted for newest smokeless powder ammunition, in 1892 US Army selected slightly modified Krag – Jorgensen rifle. It was chambered for .30 caliber ammunition, developed in USA by Frankford arsenal and known as .30-40 Krag, .30 Army, .30-40 Govt etc. Initial deliveries of the US Model 1892 Krag rifles began in 1894, and it was produced in several slightly different models, such as M1896 rifle and carbine, M1898 rifle and carbine, and finally M1899 carbine. Total production of Krag rifles by Government-owned Springfield armory is slightly less than half million; number of carbines produced is estimated as 60 000 or so. Most US Krag rifles and carbines were eventually converted to M1898 standard. American Krag rifles were declared obsolete in 1903, as a result of experience gained during Spanish-American war and Philippines campaign, and subsequent adoption of more powerful and slightly faster-firing M1903 Springfield rifle and its .30-06 ammunition. Most of US service Krag rifles and carbines were retired from first-line service by 1910; some were withdrawn from storage during WW1 to be used for training and guar purposes, and many were sold as surplus shortly after the end of WW1.
Norwegian army adopted its own version of the Krag-Jorgensen in 1894, chambering it for an excellent 6.5×55 rimless cartridge, better known today as 6,5mm Swedish Mauser (at this time Norway was united with Sweden under Swedish rule). Most of Norwegian issue Krag – Jorgensen rifles were produced at Kongsberg arms factory between 1894 and 1922, although some were also ordered from Steyr arms factory in Austria. These rifles served with Norwegian army until the end of WW2.
It must be noted that quality and strength of the Krag-Jorgensen rifles varied from country to country. While these rifles, especially those of US origin, are considered not strong enough for more modern ammunition, Danish and Norwegian rifles are of slightly stronger design, and those made during 20th century also probably feature better, stronger receivers and bolts due to advancement in chemistry and steel heat treatment processes. Krag rifles also are known for very smooth, fast-cycling action, which made them popular as a basis for sporting / hunting rifles in USA and Northern Europe. The slow single-loading feature of the original Krag – Jorgensen magazine was solved by clip-loading adapter, developed and patented in USA by Parkhurst, but it was never adopted for service use.
Krag – Jorgensen rifle is manually operated, rotary bolt action rifle. It has single locking lug at the front of the bolt, which locks into the receiver. In Norwegian and Danish Krag rifles, bolt guide rib provides additional locking surface, resting against the receiver bridge when bolt is closed. Base of bolt handle, positioned inside the cut in the receiver (but not touching it) provides some additional safety measure in case of locking lug failure. Krag – Jorgensen rifles feature unique magazine design, in which cartridges are located in single horizontal row (side by side) below the bolt. Magazine is made integral with the receiver. When looking from behind, magazine has opening on the right for loading, and is curved up on the left, guiding leftmost cartridge towards the feed path in the receiver. Loading window is closed by a hinged cover, or gate. In Danish rifles, loading gate opens forward; in Norwegian and US rifles, loading gate opens down. Either way, manual opening of the gate forces spring-loaded feed arm to withdraw, allowing single cartridges to be slipped or dropped into opened magazine one by one. Closing the loading gate releases feed arm that forces cartridges from right to left, toward the feed opening. Unique feature of Danish Krag rifles was special loading clip of complicated design, with built-in spring that ejects all five rounds from clip and into the open magazine when spring catch is released by hand. To unload the magazine, one has to open the magazine gate and simply spill remaining cartridges out of it and into one's hand. Benefit of this system is that magazine can be easily loaded and unloaded with bolt closed. Another feature of the Krag – Jorgensen rifle was magazine cutoff, which blocks exit from magazine, converting rifle into the manually loaded single shot weapon, while preserving cartridges in the magazine for most critical part of the battle (at least, contemporary concepts said so). Other features of the Krag – Jorgensen rifle were more or less standard for its time – wooden stock, handguards, iron sights, detachable bayonets. Danish rifles had a distinguishing feature, that is, a steel barrel jacket, which (at least in theory) protected the barrel from elements and rough handling.