Select a country producer
Sterling - Patchett L2A1 (Mk.1) - L2A3 (Mk.4), L34A1 (Mk.5) submachine gun (Great Britain)

Sterling L2A3 / Mk.4 submachine gun, left side, butt folded.
Image: Frank Rodyns, Belgium

Sterling L2A3 / Mk.4 submachine gun, left side, butt retracted.
Image: Frank Rodyns, Belgium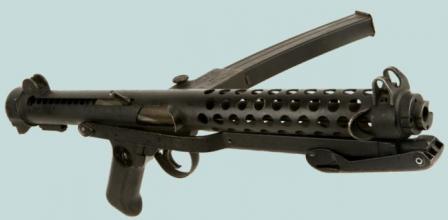 Sterling L2A3 / Mk.4 submachine gun, right side.
Image: Frank Rodyns, Belgium


Sterling L34A1 / Mk.5 silenced submachine gun.

Sterling L2A3 / Mk.4 submachine gun, partially disassembled.
Image: Frank Rodyns, Belgium
Characteristics
Sterling L2A3
Sterling L34A1 silenced
Caliber
9x19mm Luger/Parabellum/NATO
Weight, empty
2,7 kg
3,6 kg
Length (stock closed/open)
481 / 686 mm
660 / 864 mm
Barrel length
196 mm
196 mm
Rate of fire
550 rounds per minute
550 rounds per minute
Magazine capacity
34 rounds
34 rounds
Effective range
200 meters
50-100 meters
The famous Sterling submachine gun was born in around 1942 as "Patchettmachine carbine" - a prototype submachine gun, developed by George W.Patchett and originally produced by Sterling Engineering Co in England. Several prototypes were built before the end of the war, and the Sterling-Patchett submachine gun participated in extensive trials, held in UK between 1945 and 1953, when it was finally announced as a winner of trials, and adopted as"9mm Sterling submachine gun L2A1" (factory designation was"Patchett Mk.1"). Sterling submachine guns were produced for British armed forces by Sterling company and Royal Ordnance Arsenalin Fazakerly, England; Long Branch Arsenal in Canada made a slightly modified Sterling under license for Canadian army as C1. In a slightly modified form,known in British service as L2A3 submachine gun or as "Sterling submachine gun, Mark 4" or Sterling Mk.4 in short, it served with British army until early 1990s, when it was finally replaced by troublesome L85A1 assault rifle. Nearly 400 000 of Sterling submachine guns were produced until late 1980s. In 1967, British army adopted the L34A1 /Sterling Mk.5 silenced submachine gun, which is apparently still in limited use with certain special operations elements in British army.
Sterling submachine guns also were widely sold for export, more than 70 countries had purchased various quantities of Sterling submachine guns.
It must be noted that Sterling submachine guns were rather popular among British troops, because of relatively compact size, adequate firepower and acuracy andgood reliability.
L2A3 /Sterling Mk.4 submachine gun is blowback operated, selective fired weapons that fires from open bolt. The fire mode selector / manual safety lever is located on the left side of trigger unit, above the grip panel. Tubular receiver, which also serves as a barrel jacket at the front, contains a cylindrical bolt with fixed firing pin. Bolt body has several spiral grooves on its outside surface which collect the dust and fouling from inside the receiver, and thus greatly improve reliability of the gun under field conditions. Feeding is from the left side;magazines are inserted horizontally, and ejection is to the right. Magazines are of slightly curved shape for improved feeding reliability. Buttstock is made from stamped steel and folds down and below the receiver to save space. Standard sights include protected front blade and flip-up rear aperture sight, marked for100 and 200 yards range, and also protected from sides by sturdy"ears".
Special "high power, submachine-gun only" ammunition was procured by British army for Sterling submachine guns. This ammunition was absolutely safe in Sterling submachine guns, but can cause extensive wear to many 9mm pistols designed for commercial 9x19 ammunition.
L34A1 /Sterling Mk.5 silenced submachine gun differed in the barrel section, as its barrel has some 72 small holes used to vent powder gases into the rear expansion chamber of the integral silencer. This was necessary to decrease the muzzle velocity of the bullet so it would be below the speed of sound. Like its predecessor, the STEN Mk.IIS, the silenced Sterling gun was intended to be fired mostly in semi-automatic mode; the full-automatic fire was for emergency purposes only.