Select a country producer
Charter Arms Bull dog (Bulldog), Undercover, Off Duty and Mag Pug revolvers (USA)

Charter Arms Undercover revolver, early model in .38 Special
Charter Arms Undercover revolver, current model in .38 Special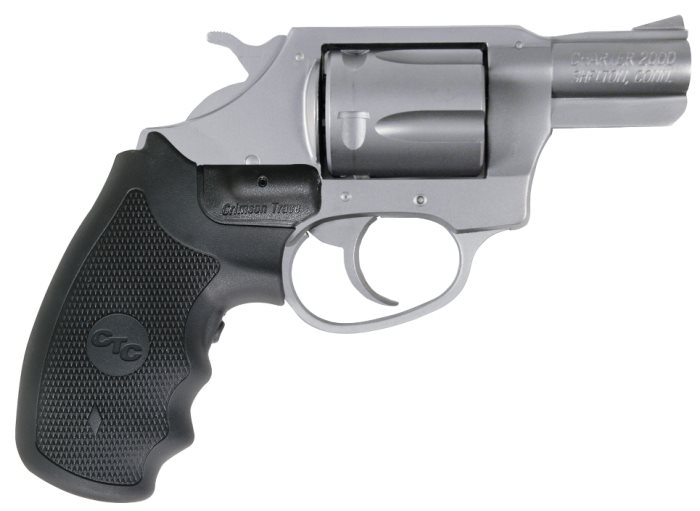 Charter Arms Undercover with Crimson Trace "Lasergrips"

Charter Arms Undercoverette revolver in .32 HR Magnum

revolver in Charter Arms Mag Pug revolver in .357 Magnum

Charter Arms Off Duty revolver in .38 Special

Charter Arms Bull dog (Bulldog) revolver in .44 Special
Bull Dog

Mag Pug

Undercover

Trigger type

Double / single action

Caliber

.44 Special

.357 Magnum

.38 Special

Weight, empty

595 g / 21 oz

652 g / 23 oz

454 g / 16 oz

340 g / 12 oz for Lite model

Length

Barrel length

64 mm / 2.5"

56 mm / 2.2"

51 mm / 2"

Capacity

5 rounds

5 rounds

5 rounds
Charter Arms revolvers trace their history back to 1964, when gun designer Douglas McClennahan founded Charter Arms Company to manufacture lightweight, concealable and affordable personal defense revolvers of his own design. His first gun was 5-shot .38 special revolver of all-steel, but lightweight construction, simple and durable. Known as "Undercover", it became a hit as a personal defense weapon for civilians and law enforcement officers. It is still manufactured in several versions, including various frame colors and grip options. Over the time, it spawned a whole family of 5-shot, concealable revolvers, including more powerful models like big-bore "Bull Dog" (Bulldog) in .44 Special, "Bulldog Pug" and "Mag Pug" in.357 Magnum, as well as the newest "Pit-bull" in .40SW. Other descendants of the Charter Arms "Undercover" include several even more lightweight models with aluminum alloy frames, such as "Undercover Lite" and "Off-Duty", which also features concealed hammer and abbreviated grip for maximum concealability. One interesting and unusual model in the Charter Arms line is the "Southpaw", which is a mirrored version of the .38 Special Undercover Lite revolver, intended for left-hand users. There also some other modern Charter Arms revolvers, such as .22 caliber "Pathfinder" and .32HR Magnum "Undercoverette". Charter Arms also makes one 6-shot model, the "Police Undercover" revolver, which is chambered for .38 Special.
Typical Charter Arms revolvers are double / single action guns with exposed hammers and frame-mounted separate firing pins with automatic transfer-bar safety. Most models feature steel frames, although certain lightweight models have aluminum alloy frames and/or concealed, Double-Action-Only hammers. Patented frame design features separate grip / trigger guard frame which is removably attached to the main frame (receiver). This allows for strong frame design without typical removable sideplate otherwise necessary to access trigger / hammer lockwork. 5-shot cylinder swings out to the left for ejection and reloading. Cylinder latch is located at the rear of the frame. Standard sights are of fixed, non-adjustable type. Integral Crimson Trace™ laser sights, built into slightly enlarged rubber grips, are available as factory options for most models.