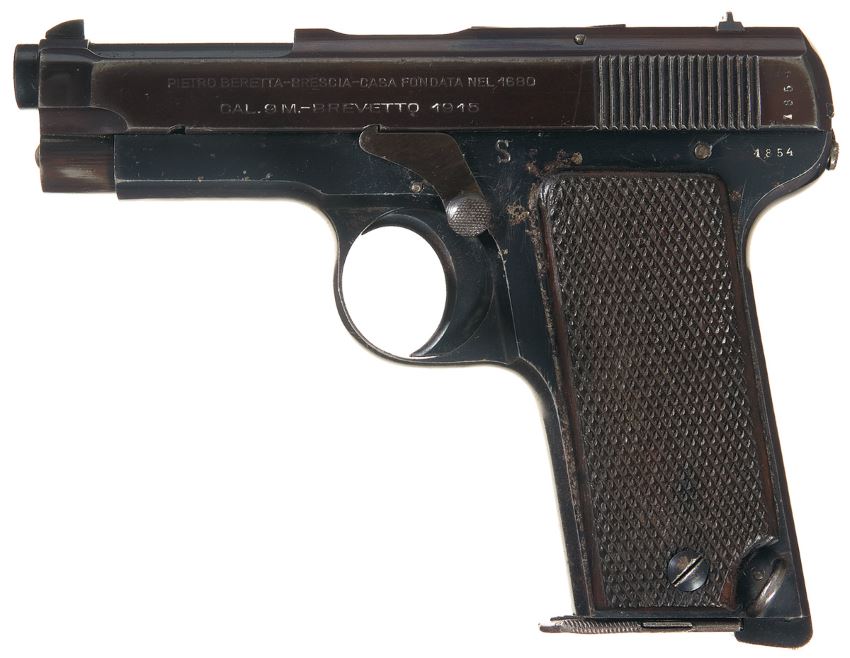 Beretta model 1915 pistol

Beretta model 1917 pistol

Beretta model 1919 pistol

Beretta model 1923 pistol
Beretta M1915

Beretta M1917

Beretta M1922

Beretta M1923

Trigger type

single action

Caliber

9×19 Glisenti

7.65x17SR Browning (.32ACP)

7.65x17SR Browning (.32ACP)

9×19 Glisenti

Weight, empty, kg

0.85

0.57

0.61

0.88

Length, mm

170

150

150

163

Barrel length, mm

94

85

84

98

Capacity, rounds

7

8

8

8
The Beretta model 1915 pistol (official designation "Pistola brevetto 1915 calibro 9mm") was the first of Beretta handguns designed by Tulio Marengoni. Beretta Model 1915 handgun was designed as a military sidearm, to replace complicated and expensive Glisenti M1910 pistols in service with Italian army. As a result, Beretta m1915 pistol was very simple and rugged in design, and fired same service 9mm Glisenti ammunition. Beretta m1915 pistols in 9mm Glisenti were produced throughout the Great War, and their production ended in 1918. M1915 were used as service pistols in Italian army until mid-1930s, when smaller Beretta M1934 pistols were adopted to replace older Beretta and Glisenti models.
The basic M1915 spawned a long line of successful versions, which remained in production through WW2 and afterwards. The first version was the smaller Beretta model 1917 (official designation "Pistola brevetto 1915 modelo 1917 calibro 7.65mm"). Initially it was procured by Italian army as a military sidearm (to complement bigger M1915 pistols), and commercial production continued until about 1921. These pistols were replaced in production by model 1919 ("Pistola brevetto 1915-1919 calibro 7.65mm", also known as model 1922 by the year of formal military adoption). The Beretta Model 1915-19 (1922) pistols were of same 7.65mm Browning caliber and roughly same dimensions; however, these improved pistols featured different barrel attachment system and longer cut on the top of the slide that replaced separate ejection opening, and later became sort of Beretta's pistols trademark. Finally, the Beretta M1923 (official designation "Pistola brevetto 1915-1919 modelo 1923 calibro 9mm") came in around 1923. It was designed to replace original m1915 military pistols, and was the first Beretta handgun to feature exposed hammer. Chambered for 9mm Glisenti ammunition, it was supplied to Italian army, and exported to Bulgariaand Argentine.
It must be stressed that while it is technically possible to fire modern 9x19mm Luger / Parabellum / NATO ammunition from Beretta M1915 or M1923 pistols designed for 9mm Glisenti ammo, it is considered unsafe and certainly should not be done.
The Beretta model 1915 pistol is a simple blowback handgun. It features single action trigger with internal hammer (concealed inside the slide). M1915 featured dual manual safeties: one lever was located on the left side of the frame, above the trigger, which also served as a slide lock for disassembly; another lever was located at the rear of the slide, and, when applied, locked the hammer in cocked position. Later models dispensed with the rear safety lever. Guns were fed from detachable, single stack magazines, with heel magazine release.