CZ 805 BREN A2 assault rifle with short barrel and red dot sight; iron sights are folded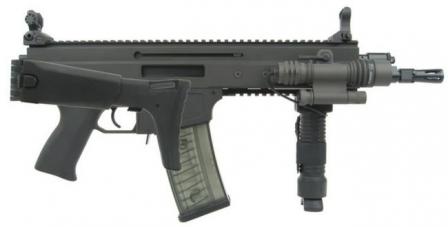 CZ 805 BREN A2 assault rifle with short barrel, butt folded, iron sights raised.

CZ 805 BREN A1 assault rifle with standard barrel
Caliber: 5.56×45 mm NATO, 7.62×39 M43 interchangeable; also 6.8×43 Rem SPC proposed in near future
Action: Gas operated, rotating bolt
Overall length: 910 mm (butt extended)
Barrel length: 360 mm standard, other lengths available
Weight: 3.6 kg less magazine and accessories
Rate of fire: ~ 700 rounds per minute
Magazine capacity: 20, 30 or 100 rounds
The CZ 805 BREN assault rifle was first introduced to the public in 2009, as a possible future replacement for aged Sa. Vz. 58 assault rifles still in use by Czech armed forces. Early in 2010 the CZ 805 was selected as a next standard military rifle for Czech armed forces, with production contract issued to the famous Czech arms factory CZ-UB in the city of Uhersky Brod. CZ 805 rifles also are offered for export, either in military (select-fire) or in civilian (semi-automatic only CZ-805 S1) versions.
The CZ 805 (which is dubbed as "CZ 805 BREN A1" in Czech sources) is a modular weapon of modern appearance. In its layout it is somewhat similar to the Belgian FN SCAR assault rifle (against which CZ 805 competed and won in Czech army trials), but similarity is not exact and there are significant design differences between these two weapon systems.
The CZ 805 assault rifle is of modular, multi-caliber design, with aluminum alloy upper receiver and polymer lower receiver / fire control unit. The magazine housing is a separate detachable unit, which can be replaced in the field in the course of caliber change. CZ 805 also features quick-change barrels, allowing to change calibers and barrel lengths according to the mission profile (in each caliber there there are short carbine barrel, standard barrel and long "marksman" or "squad automatic" barrel). The basic action uses fairy common piston-operated gas action with manual gas regulator, and a rotating bolt locking. For each proposed caliber, there is a separate bolt with appropriate dimensions.
Fire control unit includes ambidextrous safety / fire selector switch, which permits single shots, 2-round bursts and full automatic fire. Charging handle can be installed on either side of the gun, depending on user preferences.
Feed is from detachable box magazines, which are inserted into detachable magazine housing. In standard configuration, the CZ 805 will use proprietary 5.56×45 caliber 30-round magazines made of translucent polymer. Other magazine housings will allow use of STANAG or HK G36 5.56mm magazines, as well as various 7.62×39 and 6.8×43 magazines.
CZ 805 assault rifle is fitted with integral Picatinny rail on the top of receiver, with additional rails running on the sides and the bottom of the forend. Rifle will be issued with folding iron sights, and will also accept a wide variety of additional sighting equipment (red-dot or telescope day sights, night sights, lasers etc). Rifle is equipped with side-folding buttstock, which is adjustable for length of pull, and can be completely removed if maximum compactness is required. Additional equipment also includes new, specially designed 40mm underbarrel grenade launcher CZ G 805 and also a new knife-bayonet.